All kinds of events are happening at The Mission.
From kid's events, to spiritual growth opportunities, there something for everyone!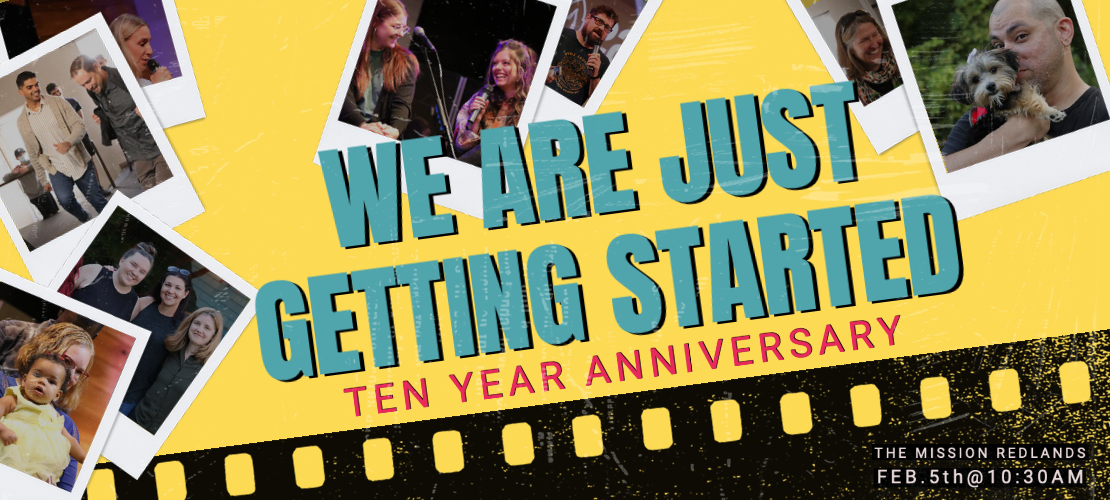 The Mission Redlands Turns 10 Years Old!
This February marks the 10-year anniversary of The Mission Redlands! Through the highs and lows of the last decade, we have experienced the faithfulness and goodness of God in so many incredible ways. Whether you have been part of the family since the beginning or whether you're brand new, we want you to join us as we celebrate and look forward to what God has in store for the next ten years of The Mission Redlands!
Come And Party With Us On 
Sunday, Feb. 5th @ 10:30am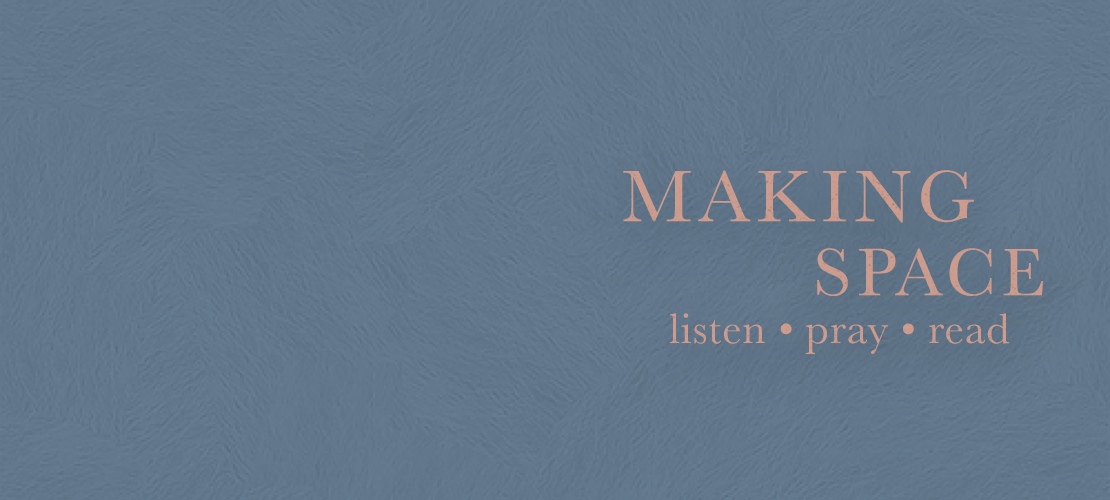 NEW TEACHING SERIES: MAKING SPACE
There is no question that humanity is busier, more distracted, and more disconnected than ever. We have access to endless news, media, entertainment, and shopping at our fingertips. And yet, people of more stressed, anxious, and depressed than we ever have been. Our current teaching series, "Making Space," is about creating space to encounter Jesus through listening for His voice, praying for others, and reading the scriptures. When we make space for these practices, it has a profound effect on how anchored we are in our faith.
Join us in January as we evaluate how we can best make space

for Jesus to inhabit our lives more.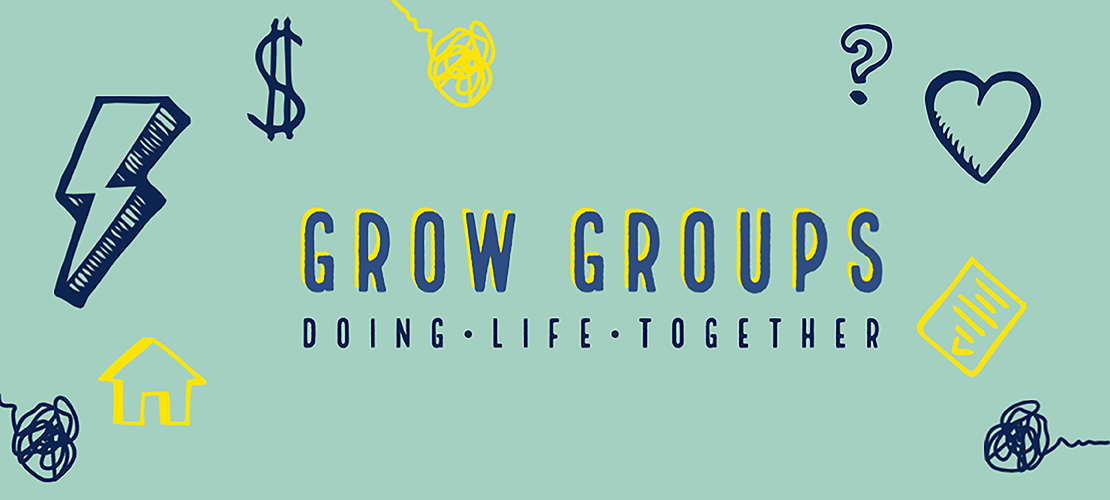 GROW GROUPS are BACK!
At The Mission Redlands, we don't just go to church together ... we do life together. These small gatherings happen throughout the city of Redlands every week, helping us grow together in faith by connecting us to God's word on a personal level. In this season, we are going through the book of Romans. If you are looking for a place to belong and build friendships, there is a Grow Group waiting for you!
Sunday Morning at 9AM
Leaders  •  Sean & Sarah Kelleher •  Redlands
Tuesday Nights at 6:30PM
Leaders  •  Jeff & Angelica Allen •  Redlands
Wednesday Nights at 6:30PM
Leaders  •  Andy & Rebecca Pham  •  Redlands
Leaders  •  Brian & Jody Bell  •  Redlands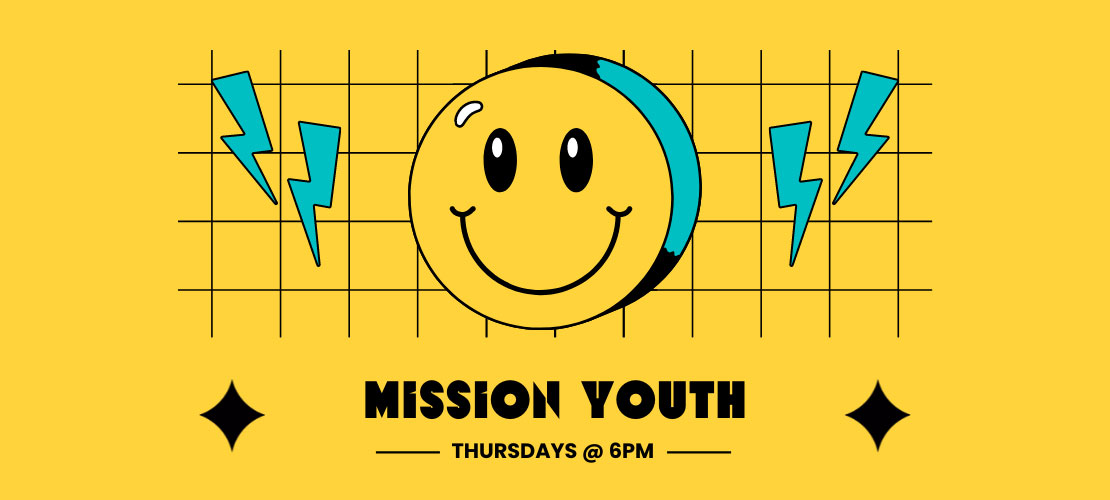 Mission Youth is BACK!! Beginning Thursday Jan. 12th.
Our church's youth program is for students from 6th Grade through High School. Our goal is to help ignite a fire for loving God and loving your neighbor in our young people's hearts. Meeting Thursdays at 6pm.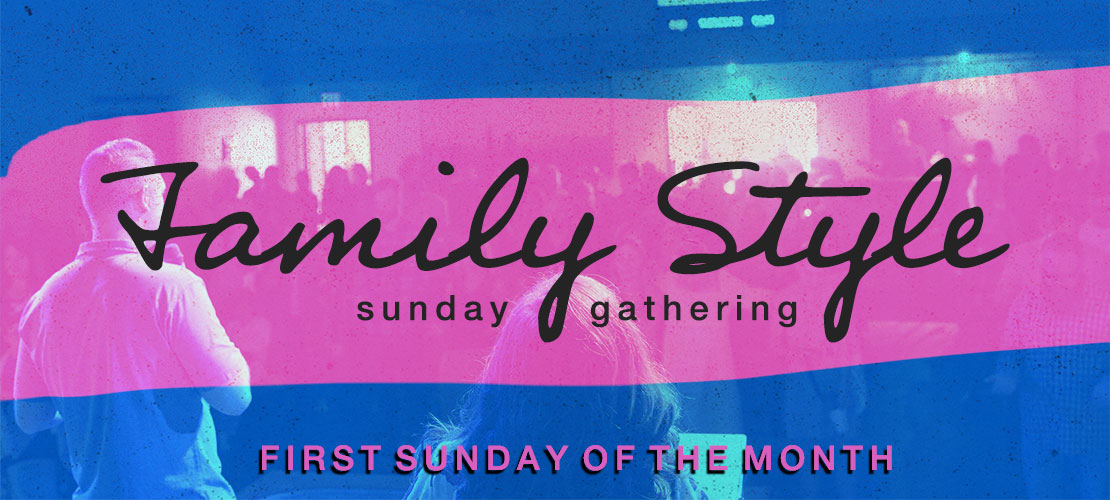 At The Mission, we're not just a church; we're a family. And in our family, we have a growing children's ministry! We are so thankful for the teachers and volunteers who help in children's ministry, but we also love seeing families praising God together. At our family-style gathers, try to make everyone, from tall to small, feel valued as part of the mission family. Join us on the first Sunday of every month as we worship as a WHOLE family! We will have a time of worship, a brief devotional, and take Communion together. See you there!
First Sunday of the Month, Every Month!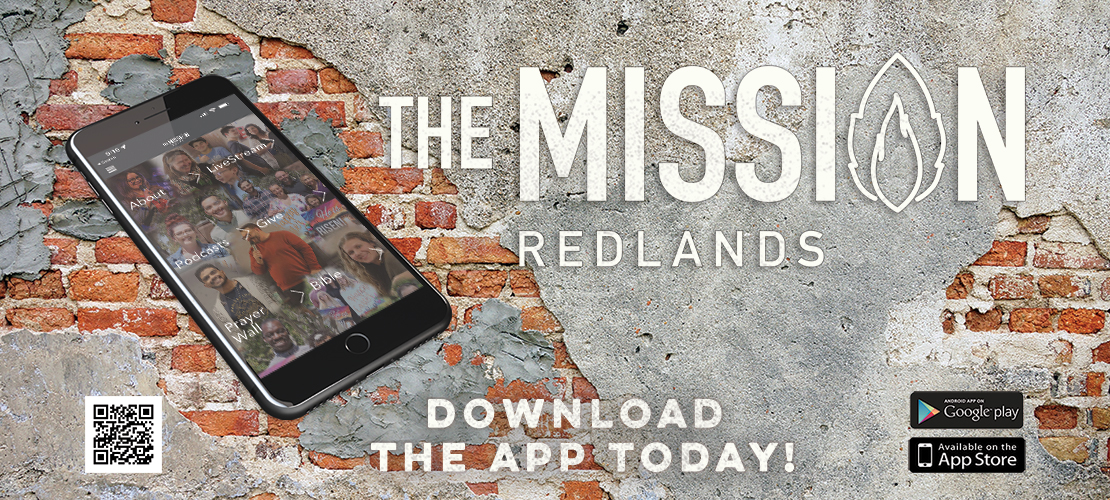 The Mission Redlands now has its very own smartphone App for both Apple and Android smartphones. This app incorporates things like Church Calendar, Podcasts, Giving, Sermon Notes, and a Bible built right in. Download it today by clicking here from your smartphone.